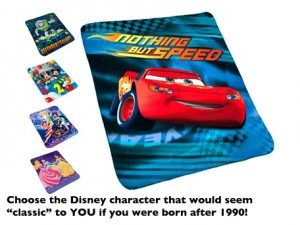 Today only, Kids Woot has Disney 3D 40×50 Fleece Blankets with 2 pairs of 3D Glasses for only $3.99. Shipping on all Woot items is $5.00. But, I think this is a great item to give as a present.  Kids would think it was so cool to have a 3D blanket with their Favorite Disney characters on it!
It comes in Cars, Buzz Lightyear, Minnie and Mickey, and the Disney Princesses!
**Woot deals can sell out at anytime.  Once you get to the link, just head to the Kids Woot section.