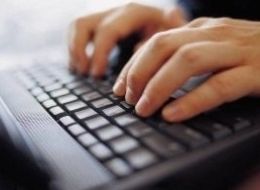 I feel kind of silly even posting this, but I've had a lot of readers ask me how start their own successful blog. So I figured I needed to post something. And while I definitely do not think I am the expert on this topic, I can share what I have done that has worked for me. Hopefully that can give some of you some direction on what to do with your own blogs.
When I first started, I really did have to learn about SEO (Search Engine Optimization), how to put ads on my site, how to use basic HTML to track website stats and create a blogger button. Those things come when they do. And you get to a point where you need to have them. I had to do research online and figure that all out one step at a time. I actually still continue to do that too. I am still learning "basic" things to help improve my site all of the time.
I think one of the fastest ways to grow a website is to use Facebook. Tell your friends, have them tell their friends and so on. Facebook is a great way to connect and share information.
If you are lucky enough to get media coverage, then take it! You never know if what you blog about could be picked up by a local TV show, talk show or radio station. And, when you can get in front of an audience like that, it will send out site traffic that could in turn produce lifetime readers.
Find your Niche. What is it about your blog that makes you unique from similar blogs? Who is your audience and what types of posts would grab your reader's attention? Where can you find people who would be interested in what you write about? After you answer those questions, you can find out where to spend your time and what things to not worry as much about.
Don't compare yourself to other blogs. This one is a hard one for me because I think by nature we always tend to do that. When I see blogs bigger than my own I have to tell myself that they have a few years head start and that I'm doing great where I am at. So, always just do the best that YOU can do. Don't compare.
Growing a blog is a lot of work. Let me tell you!! I am EXHAUSTED every single day. But at the same time, I love what I do. So if you are mainly looking at starting a blog for the purpose of making money, you will burn out and get frustrated.
The most important piece of advice I can give is to make sure you do something you LOVE. If you do, it will show through your posts and your website. And, readers love to read a website that is authentic and real!