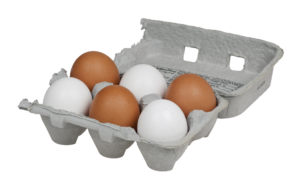 Grocery shopping is painful these days. Seriously, I think I almost cried at the grocery store the other day. Okay, now that I have the dramatics out of the way, I can acknowledge that I am all about figuring out how to stretch my dollars a little bit more. These easy, budget friendly breakfast ideas are a great way to do just that!
This list is great for anyone who is looking to save money or do a little bit better meal prepping! I know that I need to improve my meal prep skills in order to save time and money. I am so much less stressed when I do better about meal prep. Anyway, these breakfasts are perfect for just that.  
Easy, Budget Friendly Breakfast Ideas
These recipes are easy to make and are significantly easier on your grocery budget.  
Vegan Chocolate Banana Bread
Are eggs too spendy where you are? This vegan chocolate banana bread is perfect for you!  
Cranberry Oatmeal Breakfast Bake
Breakfast bakes are awesome for meal prep and this cranberry oatmeal breakfast bake is a perfect option! 
Sheet Pan Pancakes
I kind of love these sheet pan pancakes. Pancakes in general are delicious, but once you add fruit to the mix, YUM!!!
Chocolate Chip Baked Oatmeal
Chocolate chip baked oatmeal is going to be quite the treat for any oatmeal lover in your life. It doesn't get much more budget friendly than oatmeal! 
Instant Pot Egg Bites
Do you love Starbucks egg bites? I do! They are so spendy though! Next time you are craving them, make your own and save some serious money. These Instant Pot Egg Bites are easier than you might think. 
Potato Pancakes
Oh my gosh, I love love love potatoes. Like seriously love them too much. That's why I love these potato pancakes for breakfast and they are great for those on a budget.