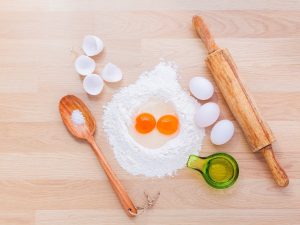 Image by Seksak Kerdkanno from Pixabay
School is at home, we rarely go out to eat and frankly, I am looking for all of the budget friendly foods that I can find in order to save my family money. How about you? 
I have 3 kids and two of them are growing boys who EAT A LOT. Our grocery bill can easily reach 4 figures per month if I let it, that's why I prepare food intentionally and I have been putting extra focus into adding healthy into the budget friendly portion of the menu goals. These budget friendly breakfasts that the whole family will love will also be loved by you, because you know they are healthy. 
Budget Friendly Breakfast that The Whole Family Will Love
My kids love muffins and I love how easy muffins are to grab and go on busy mornings. Even these days when we are rarely "on the go." Even though school is happening at home, our mornings are busier than ever. Plus, I have kids with allergies and these muffins are awesome for a no-stress meal. 
These Blueberry Breakfast bars are great for families who deal with allergies. They are also well loved with non allergy sufferers because, well, they are delicious! The blueberry amp up their sweetness, while filling them with healthy goodness to get them through their days successfully.
These Ham and Cheese Frittata Muffins are packed with protein, delicious and perfect for anyone who might be following a low carb or keto diet. Do your kids like egg muffins?
I have made every recipe on this list and they have all been successful with my family. It's also worth noting that I have some seriously picky eaters in my family, so when they all love them, I consider that a hit.