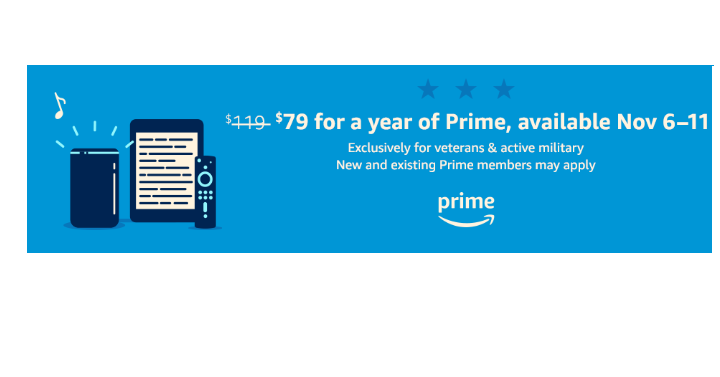 Are you a veteran or active duty military? Now through November 11th, Veterans & Active Military can get Amazon Prime for only $79! (Reg. $119) That's amazing price for a year of prime. To receive this promotion, you must be a verified U.S. veteran, Active Duty or Reserve or National Guard member.
This promotion is available Nov 6–11
If eligible, you can sign up for Prime at $79/year (normally $119/year) for the first year
You can attempt verification a maximum of three times
I know that some people have been having an issue signing up for this deal.  Many reps are unaware of this deal so some people are finding it to be a struggle, however, I did a little bit of research and found that those that are having a struggle can get help by following these steps:
Email Amazon at VeteransDay

@amazon.com

You should get an automatic reply asking for your information
Hit REPLY and give them the requested info
They will reply back with a new sign up link
Fill everything out and hit submit
Yes, I know it's a pain, but the few minutes it takes would be worth the $40 in savings to me.