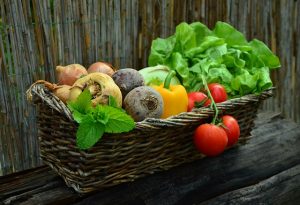 We all know that in order to save money on our food bills, we need to be cooking at home more often.  That means that we really need to keep our pantries, fridges, and freezers full of staples that can help with most of our meal planning.  If you are ready to make the home-cooking change, here are 10 Staples to keep in your kitchen to keep your food costs down:
Rice – You can make rice work for countless meals such as stir fry, Spanish rice, sticky rice, steamed rice, burritos, and the list goes on.

Oatmeal – Oatmeal is ridiculously cheap when you buy it in bulk ($0.61 per pound at my local bulk grocery store) and is a very healthy breakfast.

Eggs. Eggs are a great source of protein and are often inexpensive.  Be sure to watch your local grocery store for sales.

Peanut butter – Peanut butter is full of protein, kids love it, you can use it to make sandwiches, dip your celery in, make cookies, as a pancake topper, etc.  Peanut butter is very versatile.

Chicken thighs – Chicken thighs are very inexpensive and can be made into a variety of meals.

Canned beans – beans are filled with protein and fiber, making them great for a healthy budget food.  They can be used in place of meat in quite a few meals as well.

Canned tomatoes/canned tomato sauce – These are typically extremely inexpensive, but can be used for spaghetti, pizza, Spanish Rice, soups, stews, etc.

Veggies such as carrots and potatoes – These types of vegetables store well for weeks at a time making food waste less likely.  They also make great filler items for your meal plan.

Frozen veggies – Frozen veggies can be stored for a long time, plus they are often quite inexpensive.  They can easily be warmed up for serving too!

Tuna – Tuna sandwiches or wraps, tuna casserole, tuna in salads, the possibilities are endless, so when you see tuna on sale, be sure and stock up!