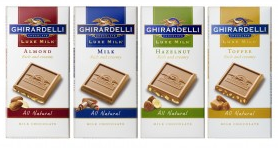 This giveaway goes live sometime today! If you see it go live make sure to come back and comment so we can all hurry and grab one! 
Heads up! Ghirardelli has just announced the following on their Facebook wall:
"Are you a milk chocolate fan? We're creating 10,000 Milk Chocolate Connoisseurs! Come back Friday to find out how you can win one of 10,000 FREE bars of our newest flavor." 
That means that sometime this Friday, Ghirardelli will be giving out 10,000 FREE Milk Chocolate bars! Make sure to "like" Ghirardelli on Facebook now so that you will see on your wall when this giveaway goes live on Friday!
Hopefully a bunch of us can score FREE chocolate with this promotion!
(Thanks MoJo Savings)